[ 3,167 views ]
Part-2 – The Electronics
This is part 2 of the four parts posts about the DONOFF ecosystem.
• Part 1 – Introduction
• Part 2 – The Electronics (this part)
• Part 3 – The Firmware
• Part 4 – Building a DONOFF device
In the first part I introduced the DONOFF ecosystem and the design goals.
In this part I will try to explain the electronics.
The hundreds of posts on the internet about mains dimmer designs all use a triac to cut-off part of the sine waves of the AC mains. Some do this by leading-edge cut-off, where the first part of the sine wave is cut-off: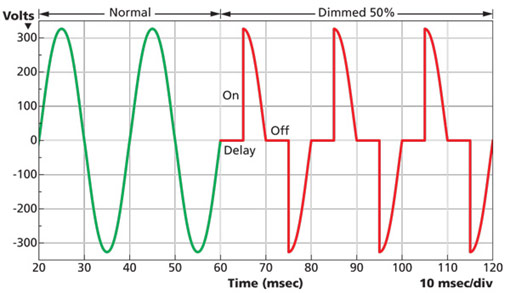 Another method is by trailing-edge cut-off where the last part of the sine wave is cut-off: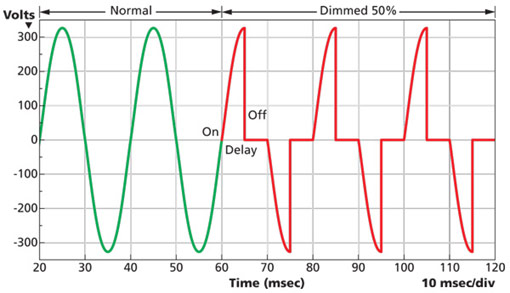 As elegant and nice as these solutions may be, they only work with resistive loads (incandescent lights). You can, at least in the Netherlands, no longer buy incandescent lights and in the near future the only lights available will be LED lights.
You cannot dim LED lights by either trailing- or leading-edge cut-off! But (dimmable) LED lights can be dimmed with Pulse Wide Modulation (PWM). PWM switches the power to the LED light on and off at a (relatively) high frequency.

The DONOFF hardware uses this PWM to dim the (dimmable) LED lights but PWM can also be used to dim incandescent lights (So as a bonus, DONOFF can also dim incandescent lights).